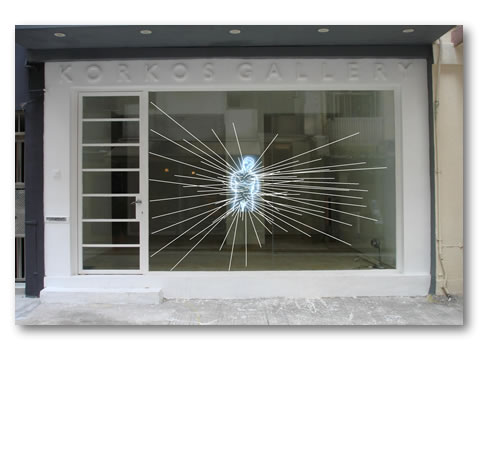 WHITE LINES
KORKOS GALLERY, PRINCE'S TERRACE, MID LEVELS, HONG KONG
11 MARCH – 14 APRIL 2011
"White Lines" is an exhibition of new works in new media that celebrate light as the source of sight and beauty.
All of the works in this exhibition employ electroluminescent (EL) wire.
The centrepiece of the exhibition is a powerful installation in traditional glass neon and electroluminescent wire called Saint Sebastian: Requium Lux Aeterna that references the laser guided targeting systems used in modern warfare. Dozens of EL wires were strung from the figure to stainless steel springs attached to the gallery's plate glass front window so that every passer-by was placed in the line-of sight position of a shooter aiming at his target. But at the same time these lines of light may also be read as a spirit emanating from the figure and bathing the viewer and everything around him in the ineffable ecstasy of a martyr's gift.