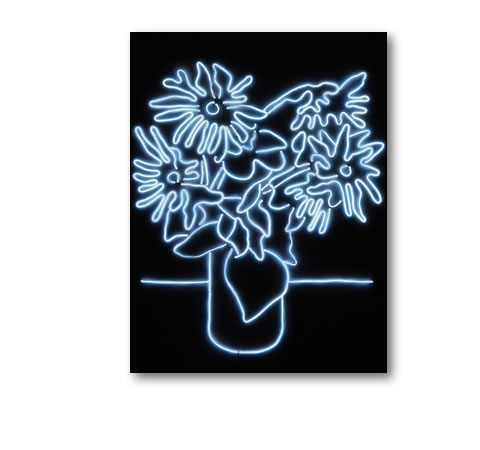 THAVIBU GALLERY BANGKOK
2 MAY 2012 – 30 JUNE 2012
The works in this exhibition are all made by hand-embroidering electroluminescent wire onto aluminium panels. The images glow with light when charged with electricity. The glowing effect is similar to neon light, but as it takes place along the whole length of thin wires just over two millimetres in diameter, Thomson can create seamless, highly intricate works that are impossible to realize in traditional neon.
The phosphor that gives the light is fugitive and breaks down easily so that the light that may be emitted can only ever be regarded as transitory. When the light gives out, the wire remains as a bas relief embroidered sculpture with a reflective sheen that harmonises with the plain white background of the panels.
Thomson's motifs reflect his interest in elusive forms, transience, ephemera and fragility as fundamental components of beauty and as representative of the joys and sorrows of life and love. Beauty is relative to different times and different cultures and all too often the delight it gives us is tempered by the fact that it too, like laughter and music, the perfume of flowers and the bloom of youth, will fade. All things must pass, but in our hearts and minds, that which we find beautiful is a possession for all eternity.